RECONSTRUCTION:THE DOCTOR WHO PROJECT II
RECOMMENDED SITES OF FURTHER INTEREST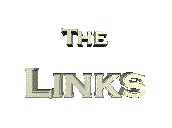 These Websites or Pages have either given me generous support, help and assistance, or are of further interest, supplying news, clips, graphics or information relevant to the project. I thank them for their support.
The Official BBC Doctor Who Website The Latest Official Information and News.
Outpost Gallifrey The Biggest Doctor Who Website on the Internet.
The Doctor Who News Page Also available at Outpost, this is the definitive on-line News source.
The Doctor Who Restoration Team Home Page Steve Roberts' excellent Website, detailing the BBC restoration of Doctor Who footage
Telesnaps Splendid Fan-based effort creating videos, using the Telesnaps and the soundtracks together.
Steve's Web Page Steve Phillip's excellent page of Missing Episode details!
Missing Episodes Michael Phillip's well-researched essays into lost footage!
Got a Website that would like to support the Project? Then E-mail me at:
garethparker2000@yahoo.co.uk